Description
The TACT bus network, operated since 2013 by the international company Keolis, comprises 5 urban lines and 10 TOD (Transport-On-Demand) inter-town lines. It covers the entire area of the Communauté d'Agglomération Chauny-Tergnier-La Fère (CACTLF), located in the Hauts-de-France region.
The lines of the TACT bus network
The TACT bus network, including the TACT Chauny buses, offers 5 urban lines:
Ligne 1 : Europe - Charmes Mairie, et dessert notamment la Gare Tergnier
Ligne 2 : Chauny Gare SNCF – Mairie d'Ognes
Ligne 3 : La Chaussée - J. Cartier/Agence Commerciale TACT
Ligne 4 : est une boucle ayant pour terminus : Tergnier Gare SNCF
Ligne 5 : Place P. Caille - Collège Joliot Curie
The urban lines are concentrated around the towns of Ognes, Chauny, Tergnier, La Fère and Charmes.
Towns served
TACT buses serve almost all of the 48 municipalities in the Communauté d'Agglomération Chauny-Tergnier-La Fère. If you book a transport-on-demand route, you can travel to towns such as Guivry, Bichancourt, Condren, Mayot or Rochecourt  and Brie.
Where do you buy a transport ticket?
Do you want to buy a TACT bus ticket or top up your card? Four points of sale are available: 3 custodians and 1 agency. If you live in Chauny, you can thus obtain your bus ticket at the TACT agency. In addition, an online shop allows you to buy your tickets and renew your season tickets easily. In addition, various tickets are available depending on your passenger profile (over 26 years old, worker, family, etc.).
Transport-on-demand
The TACT bus network includes a transport-on-demand service that operates throughout the area. This network has all the characteristics of a conventional line. It has a route and stops with predefined timetables. However, this transport-on-demand line only runs if booked in advance. Bookings can be made by phone or directly online. Passengers can, for example, go to the stations of Chauny, Tergnier and La Fère. 
School transport
All pupils living and attending school in the Chauny-Tergnier-La Fère conurbation community benefit from free school transport. Registration is carried out by submitting a file and a card is distributed during the first few days of the new school year by schools. To allow drivers to adapt their routes and only serve the required stops, pupils have to specify their bus stop when boarding the bus.
The Flexo service
This smart, practical service allows users to tell the bus driver which stop on the line they want to get off at. The driver then takes the shortest route to drop off passenger at the desired point. It should be noted that the bus is boarded at a single point. In addition, this service is available at the regular TACT network fares.
In short, the TACT network allows thousands of passengers to travel every day throughout the area of the Chauny-Tergnier-La Fère conurbation community.
Mode(s) of transport offered: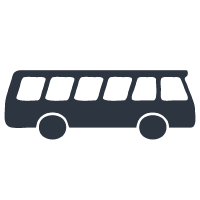 Other information